---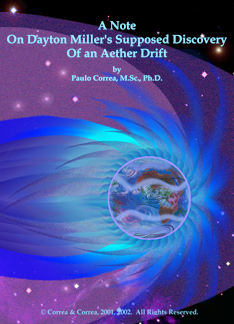 A note on Dayton Miller's supposed discovery of Aether drift
by Correa, Paulo N
Published in February 2009. 16 pages.
Aetherometric Theory of Synchronicity, Vol. 1
Monograph AS3-I.7
VIEW FULL TEXT: PDF
ABSTRACT
Dayton Miller's claims to have measured an aether drift and the absolute velocity of the Solar System, are succinctly compared with the currently accepted values of astrophysical velocities and those predicted by Aetherometry. Miller's model of the Aether is also contrasted to Wilhelm Reich's 'orgonomic cosmology' and the aetherometric model of a dynamic Aether.