---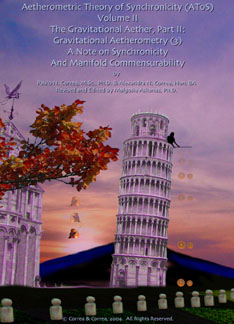 A Note on Synchronicity and Manifold Commensurability
by Correa, Paulo N. & Correa, Alexandra N.
Published in August 2004. 13 pages.
Aetherometric Theory of Synchronicity, Vol. 2
Monograph AS3-II.5
VIEW FULL TEXT: PDF
This monograph is available exclusively to ISFA members.
ABSTRACT
The discovery of the law of free fall is not separable from the Galilean intuition of a commensurability between Time and Space dimensionalities. This essay compares the Galilean and aetherometric approaches to this problem, with respect to the gravitational field.