---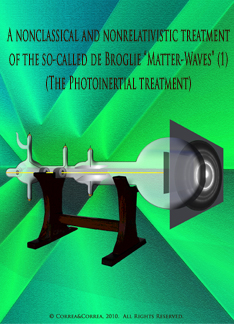 A nonclassical and nonrelativistic treatment
of the so-called de Broglie "Matter-Waves" (1)
(The Photoinertial treatment)
by Correa, Paulo N. & Correa, Alexandra N.
Published in December 2010. 48 pages.
Aetherometric Theory of Synchronicity, Vol. 3
Monograph AS3-III.1
Price: US $35 ($25 ISFA)
ABSTRACT
The aetherometric analysis of de Broglie waves, as a function of input energy, is presented as a solution that is distinct from the classical and relativistic treatments of wave, momentum and energy functions. This monograph only addresses the photoinertial treatment, the electroinertial treatment being the subject of a follow-up communication.